TPO46-L2
Preference In Portrait Painting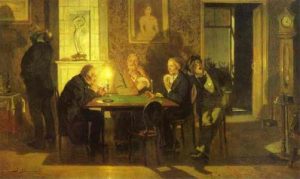 Listen to part of a lecture in an art history class.
---
What is the lecture mainly about?
A. Techniques for creating lifelike portraits
B. Theories about a preference in portrait painting
C. Reasons for a decline in the popularity of portrait painting
D. Ways researchers determine whether a painting is authentic
According to the professor, what change occurred in portrait paintings over time?
A. Portrait artists became more skilled at painting profiles.
B. Portrait artists began painting a greater variety of subjects.
C. The percentage of left profiles decreased.
D. A left profile became a symbol of the subject's social status.
What point does the professor emphasize by his discussion of the lithograph The Potato Eaters?
A. Profiles are more difficult to create than head-on portraits.
B. Some artists consider the direction of the profile a key element in a portrait.
C. Most group portraits include both left and right profiles.
D. The direction of a profile is usually determined by the characteristics of the subject.
According to the professor, what is the problem with the "right-handed" hypothesis?
A. Left-handed artists are equally comfortable painting left and right profiles.
B. Right hands tend to cover up facial features when painting left profiles.
C. Statistics show that right-handed artists tend to paint right profiles.
D. Left hands are less likely to cast shadows when painting right profiles.
What does the professor imply about the "studio organization" hypothesis?
A. It has been disproved by recent studies.
B. It accounts for an important change in portrait painting.
C. It is based on a study of a relatively small number of portraits.
D. It was first proposed by the owner of a modern-day portrait studio.
Why does the student say this: 🎧
A. To explain why he prefers to paint left profiles
B. To point out a difference between adult portraits and baby portraits
C. To point out a fact that contradicts the "parental imprinting" hypothesis
D. To provide support for the "parental imprinting" hypothesis
---

---