TPO41-C2
Get Help On Paying Tuition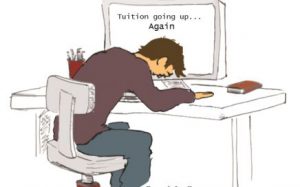 What are the speakers mainly discussing?
A. The procedures for applying for different types of scholarships
B. Where the man must go to submit his financial-aid application
C. How students can get help paying their tuition
D. Various organizations that offer work-study programs
What is the woman's opinion of the work-study program?
A. It does not provide as much financial flexibility as a regular job does.
B. It is more difficult to apply for than other types of financial aid.
C. It should offer more jobs that would appeal to dental students.
D. It should allow students to choose where they want to work.
Why does the woman mention civic clubs, foundations, and large corporations?
A. To suggest organizations the man should visit to learn about scholarships
B. To give some examples of organizations that offer scholarships
C. To explain why some scholarships are very competitive
D. To point out that it is appropriate to use scholarship money from multiple sources
Why does the woman ask the student about his career plans?
A. She might be able to help him find a job related to the profession he is pursuing.
B. Some scholarships are connected to particular fields of study.
C. He cannot receive financial aid without having a career plan.
D. She wants to find out which campus library is best equipped to help him.
Why does the woman suggest that the student speak to a university librarian?
A. A librarian might have more time to help the student than she does.
B. Librarians work hard to maintain a complete listing of financial-aid resources.
C. Librarians are trained to help students fill out a variety of applications.
D. A librarian could help the student find the information he is looking for more quickly.
---

---
答案:C A B B D