TPO18-L4
North American Wood Frog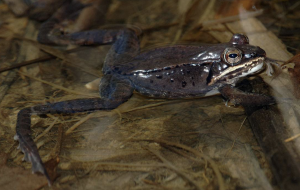 Listen to part of a lecture in a biology class.
---
---
What is the main purpose of the lecture?
A. To explain the biological advantages of a physical change that occurs in North American wood frogs.
B. To explain why the North American wood frog's habitat range has expanded.
C. To describe the functioning of the circulatory system of the North American wood frog.
D. To introduce students to an unusual phenomenon affecting North American wood frogs.
Why does the professor first mention the arrival of spring?
A. To encourage students to look for thawing wood frogs.
B. To point out the time period when frogs begin mating.
C. To explain why the class will soon be doing experiments with wood frogs.
D. To emphasize the speed of the thawing process.
What happens to a wood frog as it begins to freeze?
A. Blood is concentrated in the center of its body.
B. Blood stops producing sugar.
C. Water moves out of its internal organs.
D. Water from just beneath the skin begins to evaporate.
What are two points the professor makes about the thawing process of the wood frog?
[CHOOSE 2 ANSWERS]
A. The thawing process is not fully understood.
B. The thawing process takes longer than the freezing process.
C. The frog's internal organs thaw before its outer skin thaws.
D. Thawing occurs when the frog's heart begins pumping glucose through its body.
What impact does freezing have on some thawed wood frogs?
A. It increases their reproductive success.
B. It decreases their life span.
C. It causes them to be more vocal and active.
D. It reduces their ability to recognize potential mates.
What does the professor imply when she says this: 🎧
A. She wants the student to clarify his question.
B. She wants the student to draw his own conclusions.
C. She thinks the student does not understand how car antifreeze works.
D. She thinks the student has misunderstood her point.
---

---
答案:
D A C AC D B