TPO17-L4
Octopus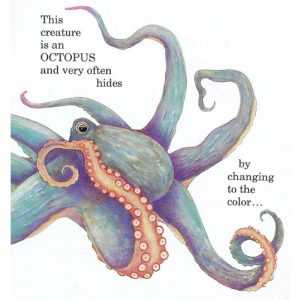 Listen to part of a lecture in a biology class.
---
---
What is the lecture mainly about?
A. Different kinds of color vision in sea animals.
B. Differences in appearance between various species of octopus.
C. Ways that octopuses attract their prey.
D. Ways that octopuses protect themselves from predators.
Why does the professor first mention Proteus?
A. To explain how the octopus got its scientific name.
B. To introduce the octopus' exceptional abilities.
C. To point out that the octopus played an important role in Greek mythology.
D. To provide an example of a mythological character that was part animal and part human.
How does an octopus change color to match the colors in its environment?
[CHOOSE 2 ANSWERS]
A. By raising its papillae.
B. By releasing colored ink.
C. By reflecting light from its environment.
D. By contracting the muscles around its chromatophores.
What does the professor say about the function of the papillae?
A. They produce dye in different colors.
B. They propel the octopus through the water.
C. They change the texture of the octopus' skin.
D. They help the octopus contract into a smaller shape.
What two examples does the professor mention to describe the octopus ability to change its shape?
[CHOOSE 2 ANSWERS]
A. A small round stone.
B. The leaves of a plant.
C. A cloud of ink.
D. A piece of coral.
Why does the professor say this: 🎧
A. To point out an error.
B. To illustrate a point.
C. To propose an explanation.
D. To correct a misunderstanding.
---

---