TPO24-L4
Shield Volcanoes on Venus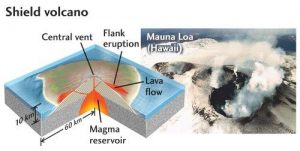 Listen to part of a lecture in an astronomy class.
---
---
What is the lecture mainly about?
A. Conclusions about the surface of Venus drawn from recent observations.
B. The different types of volcanoes that have been found on Venus.
C. Similarities between geologic processes on Venus and on other planets.
D. New methods used to observe the surface of Venus.
How were scientists able to learn new information about Venus' surface?
[CHOOSE 2 ANSWERS]
A. More powerful telescopes allowed astronomers to see more surface details.
B. Satellites were used to get radar images of Venus' surface.
C. Space modules sent photographs after landing on Venus.
D. A space probe was able to locate gaps among Venus' clouds.
What differences between volcanoes on Venus and those on Earth does the professor mention?
[CHOOSE 2 ANSWERS]
A. Volcanoes on Venus are mostly shield volcanoes.
B. Volcanoes on Venus emit thicker lava.
C. Many volcanoes on Earth are concentrated in specific zones.
D. Many volcanoes on Earth show no volcanic activity.
Why does the professor mention the fact that Venus has no surface water?
A. To give an example of a discovery that was unexpected.
B. To illustrate the consequences of intense volcanic activity.
C. To question a theory about the origin of shield volcanoes.
D. To suggest an explanation for why Venus does not have moving tectonic plates.
According to the professor, what is a possible origin of Venus's clouds?
A. Gases released as a result of volcanic activity.
B. Chemical reactions caused by high surface temperatures.
C. Bursts of radio energy from the plane's surface.
D. Strong winds that blow dust into the atmosphere.
What is the professor's opinion about the theory that Venus' volcanoes are active?
A. The theory has recently been proved by direct observation.
B. At least two kinds of evidence support the theory.
C. The data collected so far about the theory are contradictory.
D. New findings have made the theory quite unlikely.
---

---
答案: