TPO31-L1
Music In Ancient Greece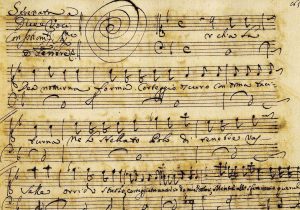 Listen to part of a lecture in a music class.
---
---
What is the main topic of the lecture?
A. The history of Greek music from ancient times to the past.
B. The influence of ancient Greek music on the music of neighboring countries.
C. The characteristics of ancient Greek songs.
D. The attitude of the ancient Greek towards music.
What two reasons does the professor give for approaching the lecture material as he does?
[CHOOSE 2 ANSWERS]
A. We have a limited idea of what ancient Greek music sounded like.
B. The Greek philosophy of music influenced Western thought.
C. Greek music shared many characteristics with other types of ancient music.
D. Greek melodies were admired by musicians from other cultures.
According to the professor, what did the ancient Greeks believe about music?
A. That music connected them to their ancestors.
B. That music allowed people express their individuality.
C. That the same laws ruled music and the universe.
D. That music could not be explained by mathematics.
According to the professor, what was Plato's attitude towards music?
A. Music had the power to help create the future leaders of a society.
B. Music needed to be constantly evolving to keep up with social change.
C. Music distracted attention from social problems.
D. Music's primary purpose was entertainment.
Why does the professor mention rock-n-roll music?
A. To make a connection between ancient and modern attitudes towards music.
B. To contrast its characteristics with the characteristics of ancient Greek music.
C. To introduce a topic he will discuss later in the lecture.
D. To find out what kind of music students in the class like best.
Why does the professor say this: 🎧
A. He does not think his opinions are relevant to class discussion.
B. He believes his students can infer what he thinks.
C. He wants the students to take Plato's ideas seriously.
D. He does not want to influence his students' opinions.
---

---
答案:
D AB C A A B