TPO37-L3
Vasari's Biographies Of Famous Artists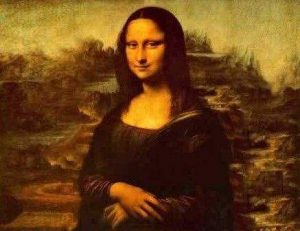 Listen to part of a lecture in an art history class.
What is the lecture mainly about?
A. Vasari's efforts to prove a theory about the Mona Lisa.
B. Vasari's friendships with da Vinci and Michelangelo.
C. Experiences that shaped Vasari's approach to art history.
D. The influence of Vasari's book in the field of art history.
What is the professor's attitude toward the mystery associated with the Mona Lisa?
A. He is confident that most of the important questions about the painting will eventually be answered.
B. He is displeased that so little is known about the painting.
C. He thinks that certain theories about the painting are probably accurate.
D. He thinks the mystery has made the painting more famous than it deserves to be.
According to the professor, what was Vasari the first European writer to do?
[CHOOSE 2 ANSWERS]
A. Take a biographical approach to art history.
B. Express negative opinions about popular artists.
C. Classify works of art in a systematic way.
D. Ask famous artists to comment on their own work.
How did Vasari treat Michelangelo's work in Lives of the most Eminent Painters, Sculptors, and architects?
A. He considered Michelangelo's work second only to that of da Vinci.
B. He questioned whether Michelangelo had in fact painted all the paintings attributed to him.
C. He intentionally excluded any mention of Michelangelo's earliest works.
D. He used Michelangelo's work as a standard for judging the work of other artists.
What feature of Vasari's discussions of artists does the professor find most interesting?
A. The descriptions of towns where artists were born.
B. The information about artists work experience.
C. The details about artists personal lives.
D. The grouping of artists into specific movements.
Why does the professor mention da Vinci's death?
A. To point out an emotional difficulty that Vasari experienced when writing his book.
B. To explain why many scholars today find Vasari's book outdated.
C. To provide an example of an inaccurate story in Vasari's book.
D. To provide an example of a relationship between a famous artist and a wealthy patron.
---

---
答案:
D B AC D C C