TPO50-L1
Ancient Egyptian Glass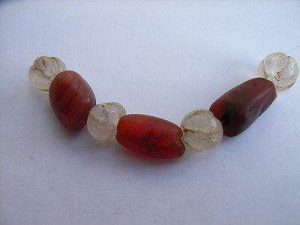 Listen to part of a lecture in an ancient history class.
What is the lecture mainly about?
A. New information about glass production and use in ancient Egypt
B. Whether Egyptians or Mesopotamians were the first to invent glass
C. Differences between Egyptian glass and other kinds of glass
D. Reasons why ancient Egyptians imported glass from other countries
What is the importance of the archaeological evidence recently found in Egypt?
A. It supports the theory that ancient Egyptians imported glass from Mesopotamia.
B. It proves that ancient Egyptians made glass objects prior to the Bronze Age.
C. It provides the first evidence that glassmaking in the Bronze Age required two different stages.
D. It shows that ancient Egyptians were producing raw glass.
The professor describes a process for making glass disks. Summarize the process by putting the steps in the

CORRECT ORDER

.


[Click on a sentence. Then drag it to the space where it belongs.]

A.Glass-like material is ground up and dyed blue or red.
B.Powdered material is heated at very high temperatures.
C.Crushed quartz and plant ash are heated at low temperatures.
D.Containers are broken to remove glass disks.
Based on the lecture, what are two kinds of glass objects that were valued in ancient Egypt and Mesopotamia?
[CHOOSE 2 ANSWERS]
A. Beads
B. Cooking utensils
C. Containers
D. Windows
According to the professor, what are two reasons why ancient Egyptians exported glass?
[CHOOSE 2 ANSWERS]
A. To build relationships with foreign leaders
B. To hold cooking oil that was sold in other countries
C. To get bronze tools from other countries
D. To acquire colors of glass not made in Egypt
Why does the professor say this: 🎧
A. To emphasize that glass objects were only made in ancient Egypt
B. To find out what the student does not understand
C. To indicate that there was no contradiction in her previous statement
D. To correct what she said in her previous statement
---

---
答案:A B CABD AC AD C