TPO24-L2
Modern Dance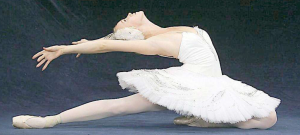 ---
---
What is the lecture mainly about?
[CHOOSE 2 ANSWERS]
A. Differences between theatrical ballet and modern dance.
B. Ways in which modern dance changed during the twentieth century.
C. Factors that limited Isadora Duncan's opportunities to perform.
D. A pioneer of a new type of performing art.
Why does the professor mention modern art and modern music?
A. To illustrate how different art forms can interact with one another.
B. To identity some characteristics shared by all forms of artistic expression.
C. To explain that modem dance also broke with traditions.
D. To compare the attitudes of European and American critics to modern dance.
What were two characteristics of Isadora Duncan's dance performances?
[CHOOSE 2 ANSWERS]
A. She danced to contemporary musical compositions.
B. She wore free-flowing costumes.
C. She used set designs inspired by nature.
D. She danced without shoes.
Why does the professor mention that Duncan watched Anna Pavlova practice?
A. To help explain how Duncan's opinion of ballet was formed.
B. To show how modern dance began to spread throughout the works.
C. To reinforce the importance of dancers working together.
D. To help explain why Duncan decided to become a professional dancer.
What does the professor imply about the rivalry between classical ballet and modern dance?
A. Audiences have generally been unaware of it.
B. Critics tend to exaggerate Duncan's role in it.
C. It is not as strong now as it was in Duncan's time.
D. It increased as modern dance became more popular than classical ballet.
Why does the professor say this: 🎧
A. To explain why Duncan was invited to perform in Russia.
B. To indicate that the Russian government strongly supported ballet.
C. To explain why there were more dance critics in Russia than in most other countries.
D. To help explain why Duncan's style was not appreciated by some dance critics.
---

---
答案:
AD C BD A C D