TPO46-L1
Swarm Intelligence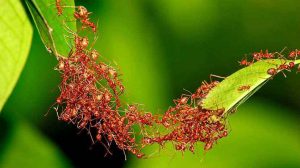 ---
What is the lecture mainly about?
A. Various methods that ants use to locate food
B. A collective behavior common to humans and animals
C. A type of animal behavior and its application by humans
D. Strategies that flocks of birds use to stay in formation
According to the professor, what behavior plays an important role in the way ants obtain food?
A. Ants usually take a different path when they return to their nest.
B. Ants leave chemical trails when they are outside the nest.
C. Small groups of ants search in different locations.
D. Ants leave pieces of food along the path as markers.
What are two principles of swarm intelligence based on the ant example?
[CHOOSE 2 ANSWERS]
A. Individuals are aware of the group goal.
B. Individuals act on information in their local environment.
C. Individuals follow a leader's guidance.
D. Individuals instinctively follow a set of rules.
According to the professor, what path is followed by both telephone calls on a network and ants seeking food?
A. The path with the least amount of activity
B. The most crowded path
C. The path that is most reinforced
D. The path that has intermediate stopping points
Why does the professor mention movies?
A. To identify movie scenes with computer-simulated flocks of birds
B. To identify a good source of information about swarm intelligence
C. To emphasize how difficult it still is to simulate bird flight
D. To explain that some special effects in movies are based on swarm intelligence
What is the professor's attitude about attempts to create computer-generated crowds of people?
A. She believes that the rules of birds' flocking behavior do not apply to group behavior in humans.
B. She thinks that crowd scenes could be improved by using the behavior of ant colonies as a model.
C. She is surprised by how realistic the computer-generated crowds are.
D. She is impressed that computer graphics can create such a wide range of emotions.
---

---