TPO33-L3
Notothenioids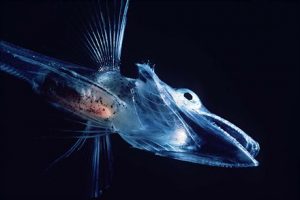 Listen to part of a lecture in a biology class.
---
What is the lecture mainly about?
A. How various proteins function in notothenioids.
B. How notothenioids became the dominant type of fish in the Southern Ocean.
C. An example that contradicts the theory of adaptive radiation.
D. Changes in ocean habitats caused by continental drift.
Why does the professor mention that coral reefs support more than 4,000 species of fish?
A. To find out what students know about tropical fish.
B. To contrast two types of ocean environments.
C. To imply that there may be species in the Southern Ocean that have not been discovered yet.
D. To imply that there may be fossil evidence of coral reefs in the Southern Ocean.
What characteristic of notothenioids helps them survive in subfreezing temperatures?
A. They maintain an unusually high body temperature.
B. A special tissue in their eyes enables them to see through ice.
C. Special proteins make their blood circulate too fast to freeze.
D. Ice crystals in their bodies are prevented from growing large enough to harm them.
Why did the antifreeze protein initially give no special advantage to the earliest notothenioids?
A. Many other types of fish had the same protein.
B. The notothenioids were not living in subfreezing temperatures.
C. The effect of the antifreeze protein was neutralized by other proteins.
D. The antifreeze protein functioned only in the smallest notothenioids.
According to the professor, what factors led to the rapid distribution of notothenioids throughout the Southern Ocean?
[CHOOSE 2 ANSWERS]
A. A genetic mutation occurred in the DNA of the earliest notothenioid.
B. There was an increase in competition for food in temperate waters.
C. Antarctica broke off and drifted away from the South American continent.
D. The waters around Antarctica temporarily warmed up.
According to the professor, what happened to notothenioids that migrated to different areas of the Southern Ocean?
A. They evolved into a wide variety of notothenioid species.
B. They developed the ability to tolerate a wide range of temperatures.
C. Some of them became extinct because of new predators.
D. Some of them developed additional antifreeze proteins.
---

---
答案:
B B D B AC A