TPO28-C2
Requirements Of The Senior Thesis
Listen to part of a conversation between a student and a professor.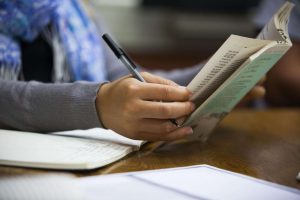 Why does the man go to see the professor?
A. To learn more about his student teaching assignment.
B. To discuss the best time to finish his senior thesis.
C. To discuss the possibility of changing the topic of his senior thesis.
D. To find out whether the professor will be his advisor for his senior thesis.
What is the man's concern about the second half of the academic year?
A. He will not have time to do the necessary research for his senior thesis.
B. He will not be allowed to write his senior thesis on his topic choice
C. His senior thesis advisor will not be on campus.
D. His student teaching requirement will not be complete before the thesis is due.
What does the man imply about Professor Johnson?
A. His sabbatical may last longer than expected.
B. His research is highly respected throughout the world.
C. He is the English department's specialist on Chaucer.
D. He is probably familiar with the literature of the literature of Renaissance.
Why does the man want to write his senior thesis on The Canterbury Tales?
[CHOOSE 2 ANSWERS]
A. He studied it during his favorite course in high school.
B. He has already received approval for the paper from his professor.
C. He thinks that the knowledge might help him in graduate school.
D. He has great admiration for Chaucer.
Why does the professor say this? 🎧
A. She is uncertain whether the man will be able to finish his paper before the end of the summer.
B. She thinks the man will need to do a lot of preparation to write on a new topic.
C. She wants to encourage the man to choose a new advisor for his paper.
D. She wants the man to select a new topic for his paper during the summer.
---

---
答案:B C C CD B