TPO24-L1
Crocodile Vocalization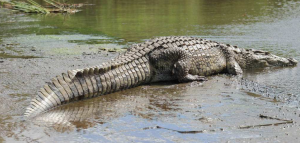 ---
What does the professor mainly discuss?
A. Factors that affect successful crocodile communication.
B. Some reasons for crocodile vocalizations.
C. Ways that newborn crocodiles learn to communicate.
D. Reasons why crocodile vocalization is difficult to study.
According to the professor, what are two functions of the sounds made by male alligators?    
[CHOOSE 2 ANSWERS]
A. To frighten predators.
B. To attract mates.
C. To locate hatchlings.
D. To threaten other males.
Based on the discussion, what is one reason hatchlings make vocalizations to their mother while they are in the nest?
A. To reassure her that they are safe.
B. To signal that they are ready to follow her.
C. To make sure she does not forget them.
D. To indicate that they need to be relocated to a larger nest.
What is the professor's opinion about the television program that she mentions?
A. She is concerned about the accuracy of some of the information the experts provided.
B. She is hopeful that the class will be able to discuss it.
C. She thinks it was overly critical of some recent theories about crocodiles.
D. She is surprised that it did not include more examples of crocodile communication.
Why does the professor mention dogs?
A. To explain that mammals are more complex than reptiles.
B. To point out that crocodiles can communicate with dogs.
C. To give an example of mammals that care for their young.
D. To emphasize that crocodiles have highly developed brains.
What happens when a hatchling makes a distress call?
A. Its siblings answer back.
B. The mother repeats the call.
C. The rest of its family waits near water.
D. The mother calls to other adult crocodiles for assistance.
---