TPO34-C2
Welty's story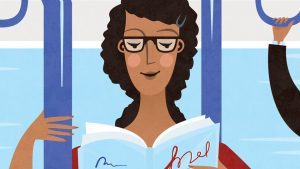 What are the speakers mainly discussing?
A. A short story the woman has written
B. A short story that was discussed in class
C. The autobiography of Eudora Welty
D. Features of short stories written by famous authors
Why does the professor mention O.Henry's story "The Gift of the Magi" and William Faulkner's story "The Bear"?
A. To suggest that the woman read these stories before writing her own story
B. To remind the woman to listen to recordings of these stories
C. To contrast Welty's story with other types of stories
D. To point out that Welty particularly liked these stories
Why does the woman mention walking in the woods?
A. It is the possible topic of a story she will write.
B. It is what she does to get inspiration for writing,
C. It is an activity that she enjoys very much.
D. It is the setting of her favorite short story.
What point does the professor make when he mentions the interview with Welty and her autobiography?
A. Welty tells some stories in the interview that are confirmed in the autobiography.
B. Welty believed that the element of surprise was essential to a good story.
C. Welty's best stories are set in Mississippi.
D. Welty thought life in Mississippi was not very exciting.
What was the student's reaction to Welty's story after first reading it?
A. She was surprised by some of the main character's memories.
B. She was annoyed that the story was so short.
C. She found the thoughts of the main character to be uninteresting.
D. She had expected more action in the story.
---

---
答案:B C A C D