TPO47-L1
Hernani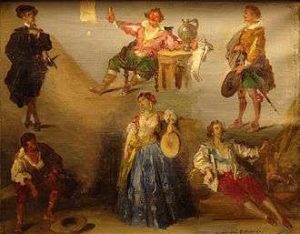 ---
---
What is the lecture mainly about?
A. The influence of Hernani on later French plays
B. The way that Hernani challenged traditional guidelines for plays
C. The influence of Shakespeare on Victor Hugo's plays
D. The changing attitudes toward Victor Hugo's plays in the nineteenth century
What is the professor's opinion of the play Hernani?
A. It is too political.
B. It is not very creative.
C. It is not an artistic success.
D. It has been unjustly ignored.
What feature of A Midsummer Night's Dream is NOT consistent with neoclassical principles?
A. It has several main characters.
B. It uses sophisticated language.
C. It takes place in more than one location.
D. It takes place during a single night.
Why does the professor mention clowns in plays by Shakespeare?
A. To point out that Shakespeare rebelled against neoclassicism
B. To reinforce the idea that neoclassical plays were sometimes comical
C. To introduce an aspect of Hernani that French critics objected to
D. To illustrate a characteristic of the plays that influenced Hugo
Why did Hugo invite his friends to the opening of Hernani?
A. To include people in the audience who understand his goals
B. To introduce them to a new and different kind of play
C. To try maintain a pleasant, comfortable atmosphere in the theater
D. To thank them for supporting his efforts as a playwright
What does the professor imply about the fights that occurred after performances of Hernani?
[CHOOSE 2 ANSWERS]
A. They were partly due to a misunderstanding of Hugo's opinions.
B. They affected a general social conflict in France at the time.
C. They occurred because of deeply held literary opinions.
D. They prevented other writers from writing romantic plays.
---