TPO20-C1
Library Policies for Returning Books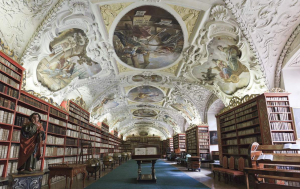 Why does the man go to talk to the woman?
A. To find out if he can get extended borrowing privileges
B. To find out if he needs to immediately return a book he borrowed
C. To find out why he has to pay a library fine
D. To find out why his borrowing privileges have been suspended
What will the man probably do today?
[CHOOSE 2 ANSWERS]
A. Get photocopies of a book chapter
B. Find out who requested his book
C. Borrow additional books
D. Renew the book Modern Social Problems
What is the woman trying to explain when she mentions students who have lost their borrowing privileges?
A. Why the man should not photocopy part of the book
B. The reasons for one of the library's policies
C. What will happen if the man does not return the book
D. The reason the man has to fill out a form
How does the man probably feel at the end of the conversation?
A. Annoyed that he has to pay a fine on the book
B. Upset that he is losing his library privileges
C. Glad that he can keep the book for two more weeks
D. Less worried about having to return the book
Listen again to part of the conversation. Then answer the question.
Why does the woman say this: 🎧
A. To make sure she understands what the man's problem is
B. To encourage the man to return the book to the library soon
C. To check whether the man has already returned the book
D. To see if the man is familiar with the library's policy
---

---
答案:B AC C D A